the power to be electric
The revolution of a timeless icon, always keeping up with the times. Starting today, electric mobility will never be the same again.
the power to be silent
In additionto cutting pollutin emissions to zero the Vespa Elettrica is a totally noiseless vehicle, in the energy saving Eco mode as well as in the Power mode, with its engine at full capacity.
the power to be connected
The Vespa Mia system, developd by Piaggio Group, provides full smartphone-vehicle connectivity. Thanks to the bluetooth connection and a dedicated app, the display of your Vespa becomes an extension of your smartphone.
the power to be easy
Using a Vespa is easy - everything is at your fingertips. The battery charger, located underneath the seat, provides a full recharge in as little as 4 hours. Both the engine and the battery do not require any maintenance.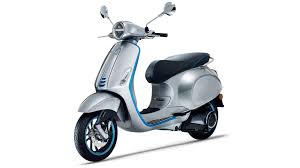 want specs? check 'em out:
Max charge time: 4 Hours
Range : 62mi
Emissions: 0 co2
Power Output: 4kw or 5.4hp
the power to be accessible
Embracing the Vespa Elettrica mobility philosophy is now easier thanks to the Piaggio Financial Services solutions. Flexible financial plans and a variety of service solutions are available for you and can be tailored to any of your needs.