2019 gts 300 yacht club

A special and numbered version of the most powerful and technologically advanced Vespa of all times. The technology and touring vocation so typical of the Vespa GTS family meet the history and most genuine sport tradition of Vespa.


Characterized by the large body made strictly in steel, perfect for moving about elegantly in the city but always ready for travel and adventure, Vespa GTS is the technical base for the new 2019 Vespa that uses the most powerful engine in the history of the most famous and beloved scooter in the world. It is a modern and technological 300 Euro 4, a single cylinder, 4-stroke, 4-valve, liquid cooled, electronic injection engine capable of putting out 15.6 kW (21.2 CV) of power at 7,750 rpm and maximum torque of 22 Nm at just 5,000 rpm. These are values that ensure extremely quick response in acceleration and extremely brilliant performance all around.
UNIQUE VESPA LOOK BLENDS WITH THE FINESSE THAT IS TYPICAL OF THE WORLD OF SAILING.
GTS PLATFORM PAIR AN ELEGANT WHITE OUTFIT WITH NAVY BLUE DETAILS
The elegant Italian style typical of Vespa encounters the fascinating world of yachting and sailing: this pairing of elegance and finesse is the wellspring of the special series Primavera Yacht Club and GTS Yacht Club, developed using the technical specifications of the latest small and large frame Vespa.
Vespa Primavera Yacht Club, available in 50 and 150cc versions, and Vespa GTS Yacht Club, available in 300cc version, stand out for their white color, embellished with numerous navy blue details. These include, beside the special graphics on the chassis, the rims, varnished an opaque blue with a special diamond finish, the "tie" on the front shield, also blue with chrome ornaments, and the rubber floorboard inserts. An additional distinct element, exclusive of the Yacht Club special series is the saddle, with the white edge that runs around the perimeter of the saddle, as well as the plate with the Yacht Club logo placed on the rear shield complete the personalization and highlight the attention given to even minute details.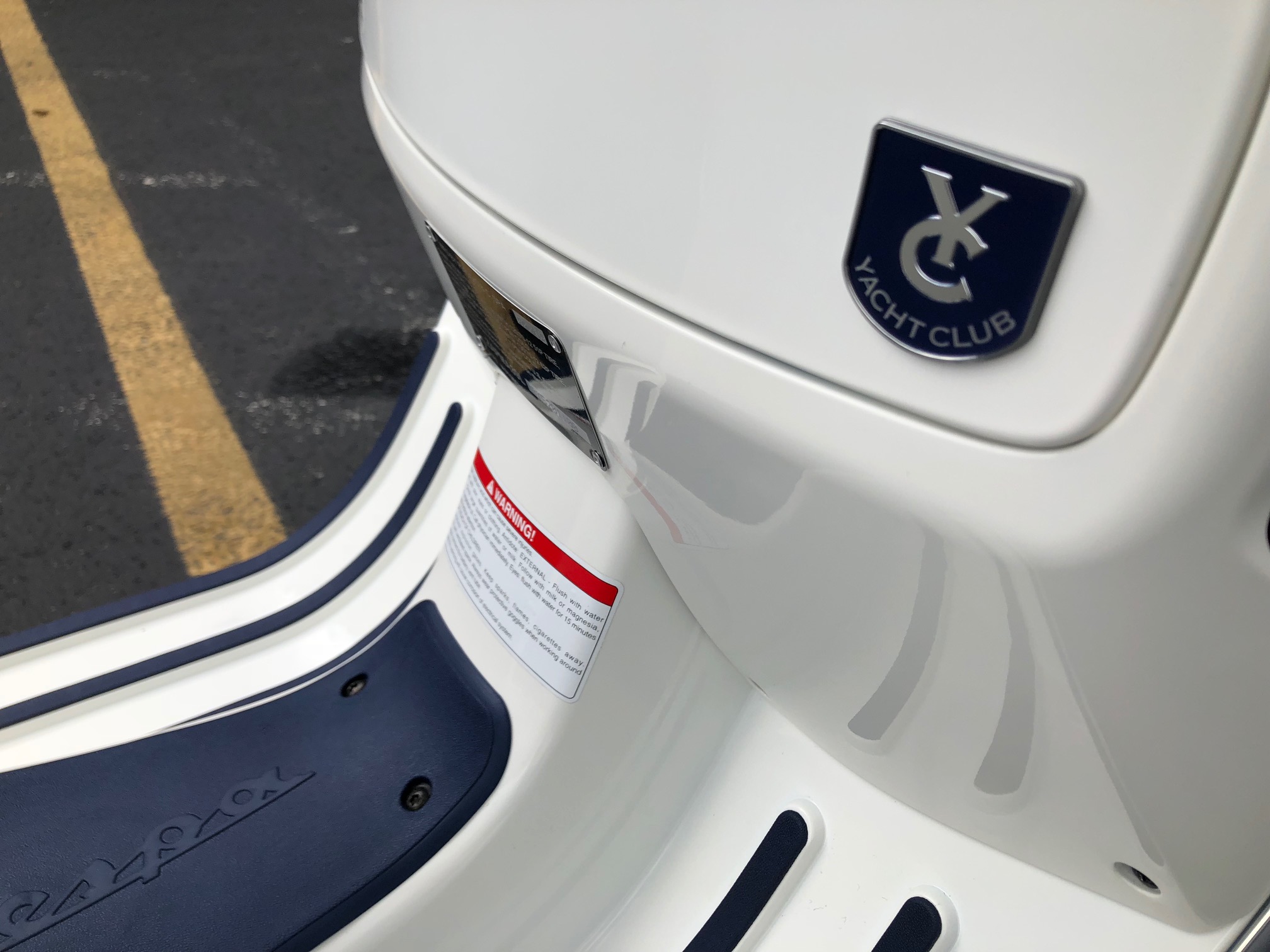 ENGINE

Engine Type

4-stroke single cylinder, 4 valves, electronic injection

Displacement

278 cc

Max Power

15.6 kW (21.2 HP) at 7,750 rpm

Max Torque

22 Nm at 5,000 rpm

Fuel System

P.I. Injection (Port Injected)
Ignition
Electronic with variable advance
Cooling System
Liquid Cooled
Fuel Efficiency
71.2 MPG (30.3 KM/L)**
Gearbox
CVT with torque server
Clutch
Automatic centrifugal dry clutch

CHASSIS

Frame

Body In Sheet Steel With Welded Structural Reinforcements

Front Suspension

Single arm fork with coil spring and hydraulic control

Rear Suspension

Double hydraulic shock absorber with four-position spring pre-load adjustment

ABS

ABS

Front Brake

Hydraulically operated 220 mm stainless steel disc - ABS

Rear Brake

Hydraulically operated 220 mm stainless steel disc - ABS

Front Tire

Tubeless 120/70 - 12"

Rear Tire

Tubeless 130/70 - 12"

DIMENSIONS

Length / Width
76.8" X 30.3" X 54.1" (1,950 MM / 770 MM / 1,375 MM)
Wheelbase
1375 mm

Seat Height

31.1" (790 MM)
Fuel Capacity
2.2 GAL (8.5 L)
Wheight
348 LBS. (158 KG)
Emissions
Euro 4
2017 Vespa

Primavera 150 CC

Sprint 150 CC

GTS 300
Super, Supersort, Touring

GTV 300

Engine

Single Cylinder 4 Stroke, 3 Valves, Catalyzed

Single Cylinder 4 Stroke, 3 Valves, Catalyzed

Single cylinder 4 stroke 4 valves, electronic injection, catalyzed

Single cylinder 4 stroke 4 valves, electronic injection, catalyzed

Bore/Stroke

58/58.6 Mm

58/58.6 Mm

75 mm x 63 mm

75 mm x 63 mm

Displacement

154.8 CC

154.8 CC

278 cc

278 cc

Max Power At Crankshaft

12.7 Hp (9.5 Kw) @ 7,750 Rpm

12.7 Hp (9.5 Kw) @ 7,750 Rpm

21 hp (15.8 kw) @ 7,750 rpm

21 hp (15.8 kw) @ 7,750 rpm

Max Torque

9.4 Ft Lbs (12.8 Nm) @ 6,500 Rpm

9.4 Ft Lbs (12.8 Nm) @ 6,500 Rpm

16.4 ft lbs (22.3 nm) @ 5,000 rpm

16.4 ft lbs (22.3 nm) @ 5,000 rpm

Timing System

SOHC (Single Overhead Cam), 3 Valves Per Cylinder

SOHC (Single Overhead Cam), 3 Valves Per Cylinder

SOHC (Single Overhead Cam), 4 Valves Per Cylinder

SOHC (Single Overhead Cam), 4 Valves Per Cylinder

Fuel System

Electronic PFI (Port Fuel Injection)

Electronic PFI (Port Fuel Injection)

Magneti Marelli fuel injection and ECU

Magneti Marelli fuel injection and ECU

Cooling

Forced Air

Forced Air

Liquid cooled

Liquid cooled

Starter

Electric

Electric

Electric

Electric

Clutch

Automatic Dry Centrifugal Clutch With Vibration Dampers

Automatic Dry Centrifugal Clutch With Vibration Dampers

Automatic centrifugal dry clutch with damper pads

Automatic centrifugal dry clutch with damper pads

Gearbox

Twist-And-Go CVT With Torque Server

Twist-And-Go CVT With Torque Server

Automatic CVT with torque server

Automatic CVT with torque server

Front Suspension

Single Sided Link Arm With Coil Spring And Dual Action Monoshock – 78 Mm Wheel Travel

Single Sided Link Arm With Coil Spring And Dual Action Monoshock – 78 Mm Wheel Travel

Single arm with coil spring and hydraulic shock absorber

Single arm with coil spring and hydraulic shock absorber

Rear Suspension

Coil Spring Preload Adjustable (4 Positions) And Hydraulic Shock Absorber

Coil Springs With Preload Adjustable To 4 Positions And Two Dual Action Shock Absorbers - 70 Mm Wheel Travel

Coil spring preload adjustable (4 positions) and hydraulic shock absorber

Coil spring preload adjustable (4 positions) and hydraulic shock absorber

Front Tire

Tubeless 110/70-11"

Tubeless 110/70-12"

Tubeless 120/70 - 12"

Tubeless 120/70 - 12"

Rear Tire

Tubeless 120/70-11"

Tubeless 120/70-12"

Tubeless 130/70 - 12"

Tubeless 130/70 - 12"

Front Brake

Hydraulically Actuated 200 Mm Stainless Steel Disc Brakes

Hydraulically Actuated 200 Mm Stainless Steel Disc Brakes

Hydraulically actuated 220 mm stainless steel disc brakes

Hydraulically actuated 220 mm stainless steel disc brakes

Rear Brake

Mechanically Actuated 140Mm Drum Brakes

Mechanically Actuated 140Mm Drum Brakes

Hydraulically actuated 220 mm stainless steel disc brakes

Hydraulically actuated 220 mm stainless steel disc brakes

ABS / ASR

Front Wheel ABS

Front Wheel ABS

ABS / ASR

ABS

Saddle Height

30.7" (780 Mm)

31.1" (790 Mm)

31.1" (790 mm)

31.1" (790 mm)

Fuel Tank Capacity

2.1 Gal (8 L)

2.1 Gal (8 L)

2.2 gal (8.5 l)

2.2 gal (8.5 l)

Emissions

Euro 4

Euro 4

Euro 4

Euro 4

Fuel Consumption

94.8 Mpg (40.3 Km/L)**

94.8 Mpg (40.3 Km/L)**

71.2 mpg (30.3 km/l)**

71.2 mpg (30.3 km/l)**

Weight

260 Lbs. (118 Kg)

260 Lbs. (118 Kg)

348 lbs. (158 kg)

348 lbs. (158 kg)