Aprilia RSV4 is the representative par excellence of Aprilia tradition in packaging state of the art chassis architecture, thanks to the know-how acquired in top level world competitions. The frame with exceptional adjustment possibilities and the swingarm exploit pressed and cast elements welded to one another. The ration between torsional stiffness and flexibility is one of the secrets of the RSV4 chassis architecture's success. It is the same structure that equips the Aprilia RSV4 1100 Factory, although the latter boasts a different steering geometry.
The chassis architecture of the RSV4 RR is completed by a Sachs suspension trio (instead of the Öhlins equipment on the RSV4 1100 Factory), made up of a fork with 43 mm stanchions and a shock absorber with separate "piggy back" and a steering damper, the first two fully adjustable in all hydraulic functions and in spring preload (the shock absorber also has a centre-to-centre length adjustment that allows the height of the rear end to be changed).
Cornering ABS & Rear Liftup Mitigation
In addition to the fourth generation APRC system, RSV4 RR and RF come from the factory standard with advanced multi-map Cornering ABS, developed in collaboration with Bosch to guarantee not only extreme safety on the road, but also the best possible performance at the circuit. The 9.1 MP system, with truly contained weight and dimensions, is able to optimize braking and the ABS intervention in corners, thanks to a specific algorithm that constantly monitors various parameters such as lateral acceleration, the pressure applied to the front brake lever, the lean, pitch and yaw angle, modulating the braking action in order to better guarantee the ratio between deceleration and stability. The new ABS system works in unison with the Aprilia RLM (Rear Liftup Mitigation) system that limits the lift of the rear wheel during more abrupt braking. Cornering ABS, fine tuned in accordance with Aprili a's specific indications, is adjustable to 3 levels of sensibility and can be switched off. Each of the three Cornering ABS maps can be combined with any of the three new engine maps (Sport, Track, Race), allowing riders with different experience and skill levels to find the best possible combination for their style. The three maps are "full power" and differ in the way they unload the 201 HP of which the Aprilia V4 is capable onto the asphalt, in addition to the percentage of engine brake dedicated to them.
Color TFT Instrumentation
The total revamping of the RSV4's electronics management is completed by the new color TFT Instrumentation, a true digital computer with exceptional display options. The two selectable screen pages (Road and Race, both with night and day backlighting) correspond to as many represented indexes.
Aprilia Multimedia platform (V4-MP) + Smartphone = performance
Standard equipment for the RSV4 RF (and optional for the RSV4 RR), there is a new version of the V4-MP, the Aprilia multimedia platform that lets you connect your smartphone to the vehicle via Bluetooth, introducing for the first time a true corner by corner electronic settings calibration system with data that can subsequently be downloaded to your laptop (or displayed directly on the smartphone) for analysis, just like they do at the races. The new V4-MP adds a new connection protocol that reduces smartphone battery consumption to a minimum, in addition to providing a larger range of circuits already mapped in which you can manage the electronic settings corner by corner, as well as user acquisition of a new circuit that is not in the list Aprilia has provided. V4-MP also includes the Infotainment system, introduced by Aprilia for the first time on the new RSV4, to manage voice commands and incoming/outgoing telephone calls with your smartphone. These activities are also displayed and managed by the digital instrumentation.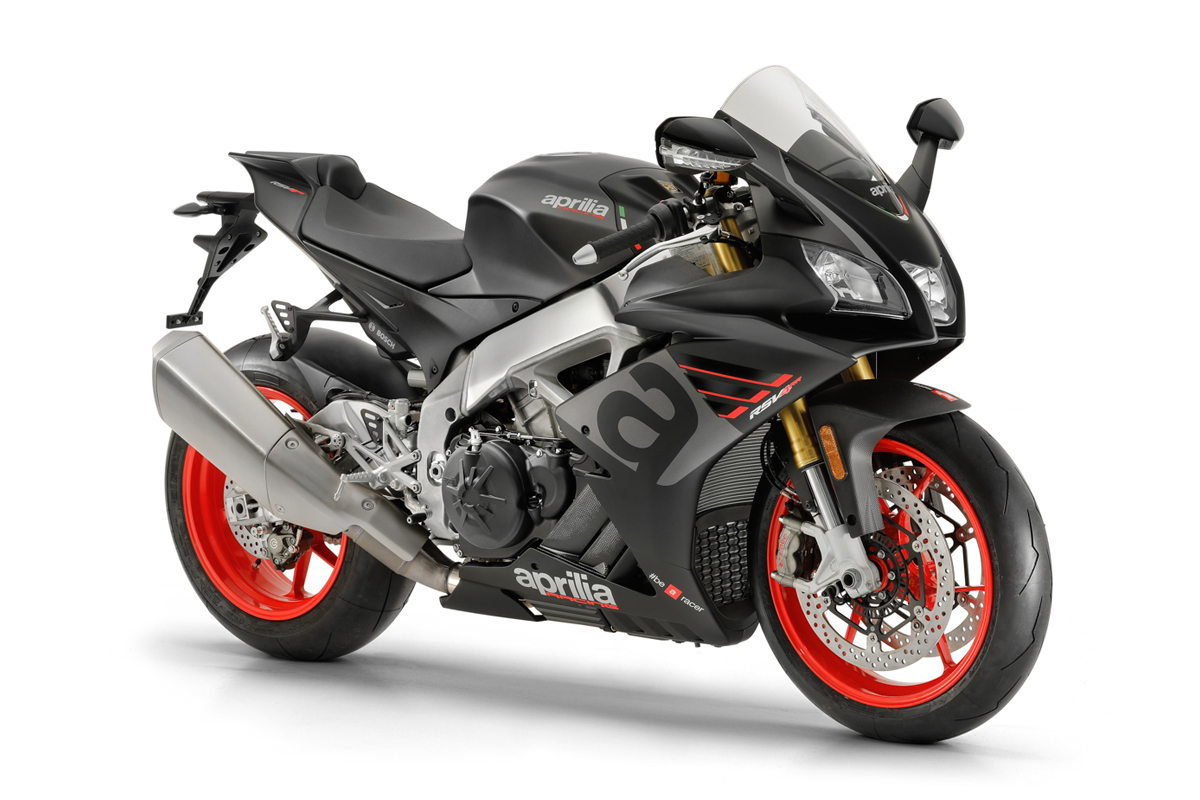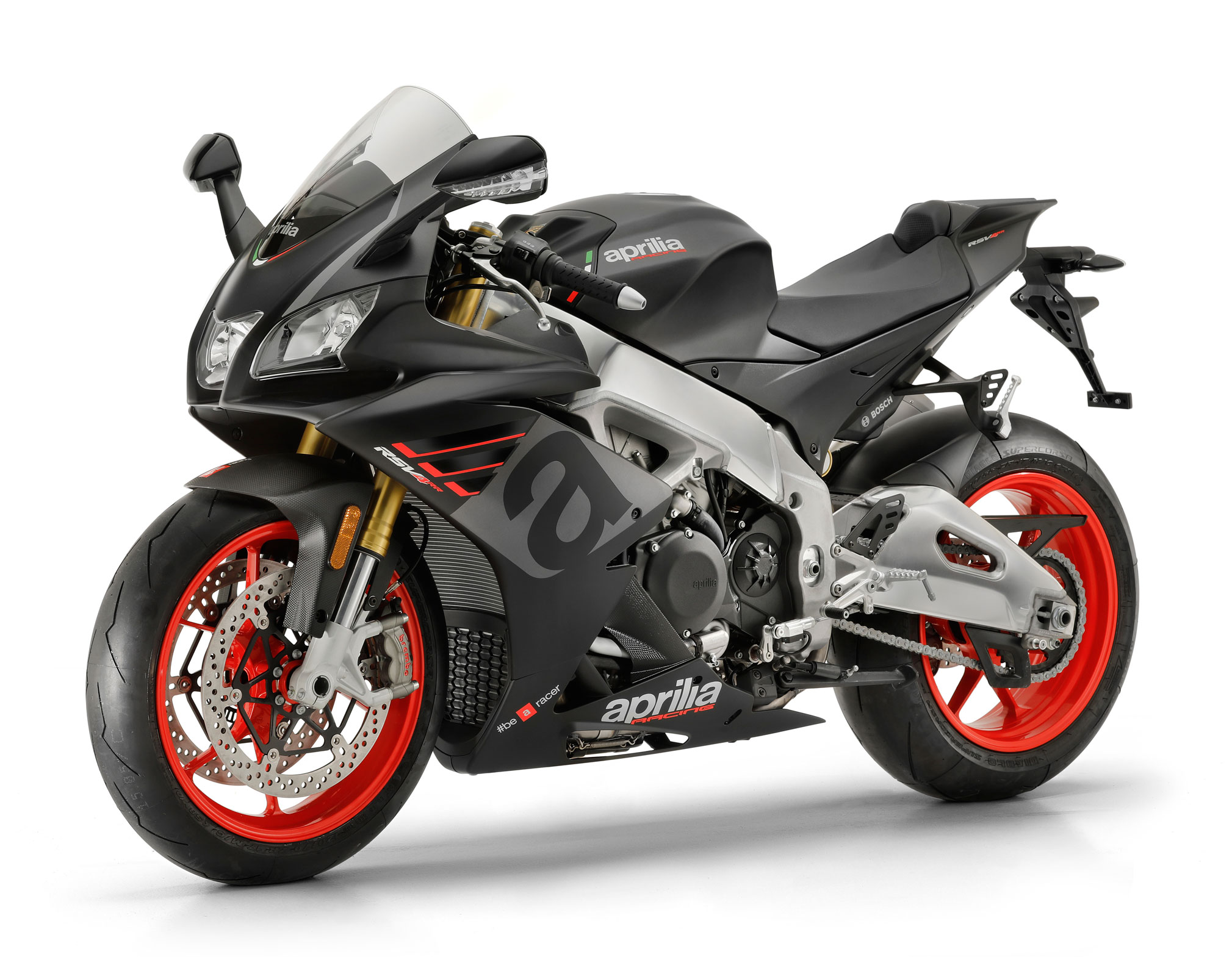 2019 Highlights
DRIVEtRAIN
999cc 65º V4

201 hp (148 kW) @ 13,000 rpm

84.8 ft-lbs (115 Nm) @ 10,500 rpm

Double overhead camshaft (DOHC)

Four valves per cylinder

6-speed cassette type gearbox with slipper clutch
Chassis
Aluminium dual beam chassis with pressed and cast sheet elements

Front Brake: Brembo M50 4-piston mono-block radial calipers. Radial pump and steel braided brake lines; 330 mm floating double disc with aluminum carrier

Rear Brake: Brembo 32 mm 2 isolated piston caliper. Rear brake pump with integrated reservoir and steel braided lines; 220mm disc

ABS: C-ABS Bosch 9.1MP, de-selectable, adjustable to 3 mappings, with RLM (Rear wheel Lift-up Mitigation) strategy

Wet Weight: 450 lbs (204 kg)

Dry Weight: 397 lbs (180 kg)
ELECTRONICS
Aprilia Traction Control

Aprilia Wheelie Control

Aprilia Launch Control

Aprilia Quick Shift (upshift & downshift)

Aprilia Pit Limiter

Aprilia Cruise Control

Bosch Multi-map Cornering ABS

Aprilia RLM (Rear Liftup Mitigation)

Ride By Wire with 3 engine mappings (Sport, Race, Track)

Rider selectable Engine Mapping

Color TFT Instrumentation
wARRANTY
All 2018 Aprilia models have a 2 year warranty
Aprilia V4 65 Degree, 4-stroke, liquid cooled, double overhead camshaft (DOHC), four valves per cylinder. Ride by wire with 3 engine mappings (Sport, Race, Track).