There's no question as to whether or not the current RSV4RF was magnificent. Aprilia only wanted to up the already exquisite motorcycle into the highest tiers of exclusivity and offered only in North America - the RSV4 RF Limited Edition.
Wearing only the most stunning of design, the beautiful graphics scheme celebrate Aprilia rich history and Italian passion, the RSV4 RF LE arrives with winglets - the first production superbike to do so - and the unit number laser inscribed on the steering plate.
Underneath the beautiful exterior lies a purely RSV4 RF bit of performance. In its latest iteration it is faster than ever before and credit is given to the new Öhlins suspension, big Brembos, and only the highest level of electronics. Cornering ABS and clutchless downshifts have also established on the bike. The chassis on the bike is shaped to perfection while the motor within it performs well enough to claim seven world-superbike titles.
rsv4 rf le: limited to 100
What we did was simple. We took the already popular RSV4 RF, with its V4-MP multimedia and Ohlins suspension and molded a bike to be desired by the masses and enjoy by the Aprilia gear head.
Limited to 100 in the US, this is the first ever production superbike to utilize winglets - an aerodynamic spoiler designed for the Aprillia RS-GP MotoGP bike.
The timing of this highly exclusive model was just about as good as it gets and was released here at AF1 Racing's Annual MotoGP party. It then debuted at the MotoGP race that same weekend.
Unrivaled Power in a Limited edition body
Born out of the soul of Noale, the Aprilia RSV4 RF LE's Euro 4 engine produces 201 horsepower - 16 more than its predecessor - and was designed by the Aprilia Racing Development department, the same group thta built the FIM World SBK Championship winning RSV4s.
The unique characteristics of the RSV4, including its narrow V4 engine, remains unchanged. When something works this well, why mess with it? The RSV4 was the first full-scale production motorcycle to arrive with the narrow V4.
It is also the more powerful and revolutionary engine to ever arrive out of Noale. It's naturally light weight and the ability for the v4 to pair to such a perfect frame, the bike shines.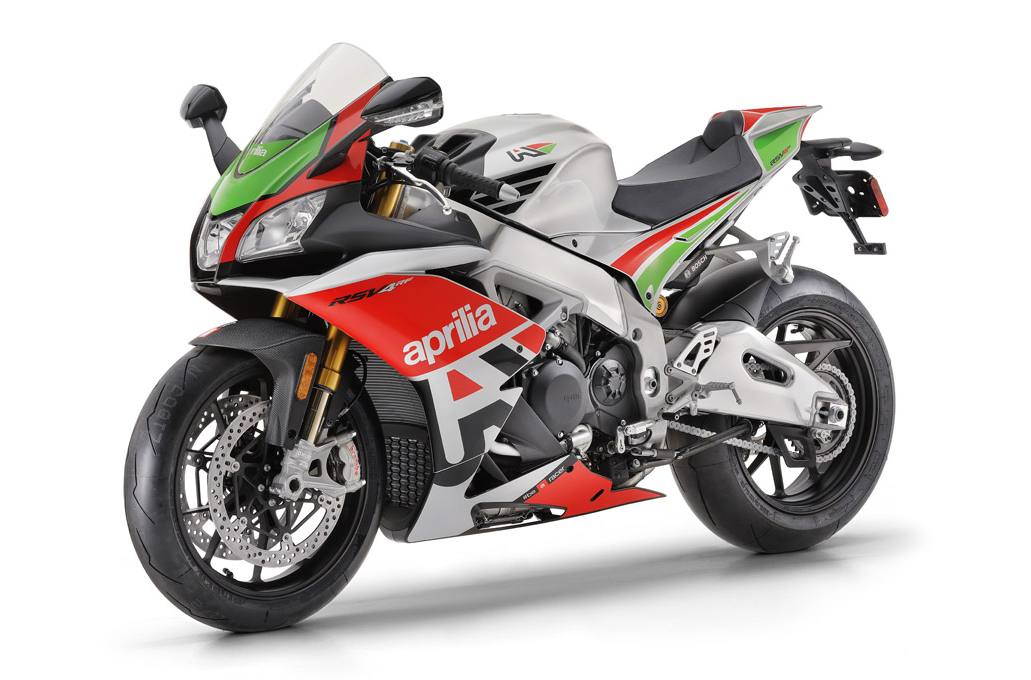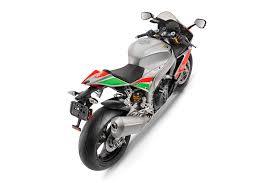 2018 Highlights
DRIVEtRAIN
999cc 65º V4
201 hp (148 kW) @ 13,000 rpm
84.8 ft-lbs (115 Nm) @ 10,500 rpm
Double overhead camshaft (DOHC)
Four valves per cylinder
6-speed cassette type gearbox with slipper clutch
Chassis
Aluminium dual beam chassis with pressed and cast sheet elements
Öhlins adjustable steering damper.
Öhlins NIX upside-down fork, 43 mm fork body Adjustable spring preload, independant rebound and compression
Öhlins TTX 36 single shock absorber with remote reservoir, adjustable spring preload, independantly adjustable compression and rebound; Aluminum alloy swingarm with progressive linkages.
Front Brake: Brembo M50 4-piston mono-block radial calipers. Radial pump and steel braided brake lines; 330 mm floating double disc with aluminum carrier
Rear Brake: Brembo 32 mm 2 isolated piston caliper. Rear brake pump with integrated reservoir and steel braided lines; 220mm disc
ABS: C-ABS Bosch 9.1MP, de-selectable, adjustable to 3 mappings, with RLM (Rear wheel Lift-up Mitigation) strategy
Wet Weight: 450 lbs (204 kg)
Dry Weight: 397 lbs (180 kg)
ELECTRONICS
Aprilia Traction Control
Aprilia Wheelie Control
Aprilia Launch Control
Aprilia Quick Shift (upshift & downshift)
Aprilia Pit Limiter
Aprilia Cruise Control
Bosch Multi-map Cornering ABS
Aprilia RLM (Rear Liftup Mitigation)
Ride By Wire with 3 engine mappings (Sport, Race, Track)
Rider selectable Engine Mapping
Color TFT Instrumentation
wARRANTY
All 2018 Aprilia models have a 2 year warranty *Limits are outlined in the warranty booklet
Aprilia V4 65 Degree, 4-stroke, liquid cooled, double overhead camshaft (DOHC), four valves per cylinder. Ride by wire with 3 engine mappings (Sport, Race, Track).